home page
NEW DVD!!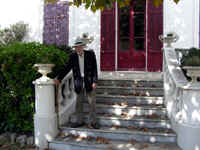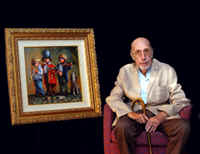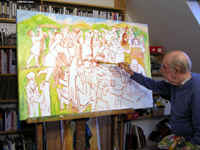 Leighton-Jones L to R : in S of France 2006; with 'Street Quartet'; painting 'The Wedding Party'
The return of Leighton-Jones to the U.K. in Jan 2002 and the recent publication of his autobiography/retrospective, as a limited edition of 500 copies, How to purchase the book has put his name firmly back in the minds of dealers, galleries and collectors in Europe that will ultimately affect valuations globally.
Leighton-Jones works with spontaneity, but also with the ideas of clear and precise statement so his art never lacks feeling or depth and the best of L-J's paintings are charged with a poetic sensibility, rhythm and emotion. He also has an instinctive grasp of human psychology, although if you asked him he'd find it difficult to explain this gift, and this fascination with the layers of the psyche has allowed him to produce images that have an immense immediate appeal but which are also constructed around many deeper levels of meaning. The concepts of 'man vs man' and 'man vs nature' can be felt strongly in many of his images, often adding a tragi-comic element to his subjects. He is a choreographic painter, with a natural ability to order detailed figurative compositions into a fluid and harmonious whole, (he is classical in his knowledge of the body but modern in his grasp of emotion and circumstance), while he also fulfils the roles of illustrator, commercial artist, and social commentator. As an artist of and for the people, it is no wonder that L-J has always maintained that all artists should be advertised in the listings pages of telephone directories.